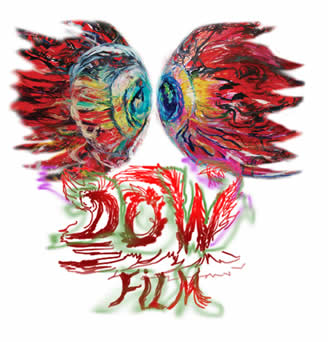 presents

... a transcendental cosmic ecstasy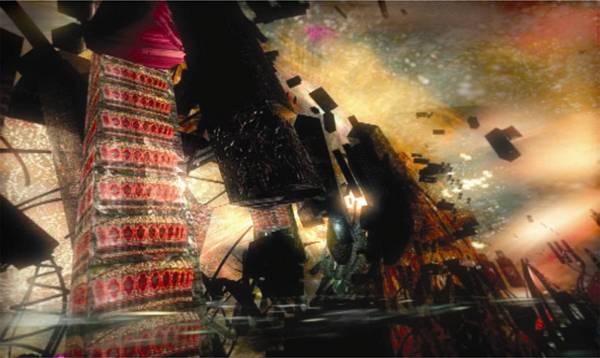 This film is a reflection of the universal cosmic energy which flows
through its creators and cannot be rationally explained.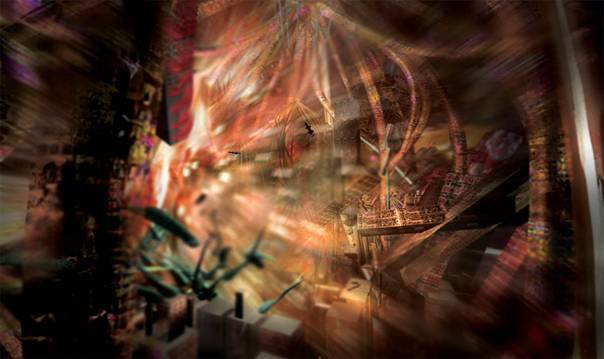 It shows inspired visions of our world as the authors have seen it in their
mind's eye from the years 2000 to 2006. Upon these visions, the film
PANKOSMODIOS is based. It tells the story of two painters, Anna and Konrad,
both seeking absolute beauty. Their search has long been fruitless.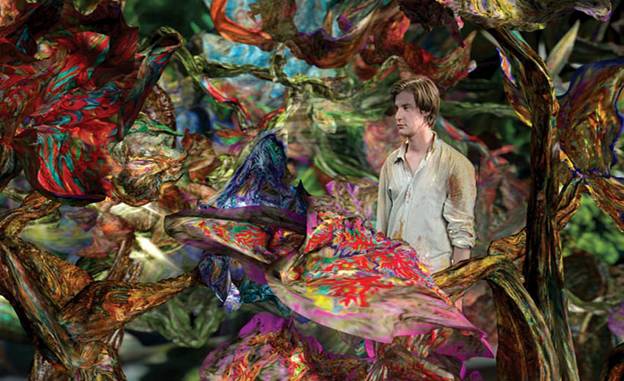 The two protagonists are overcome by the vision of an unavoidable, global
catastrophe which destroys our world. The film itself is merely
a prediction of what will ensue during the cosmic, transcendental, universal orgasm.
The artists reach the very fringes of rationality through art, which frees
them from earthly inhibitions and restrictions.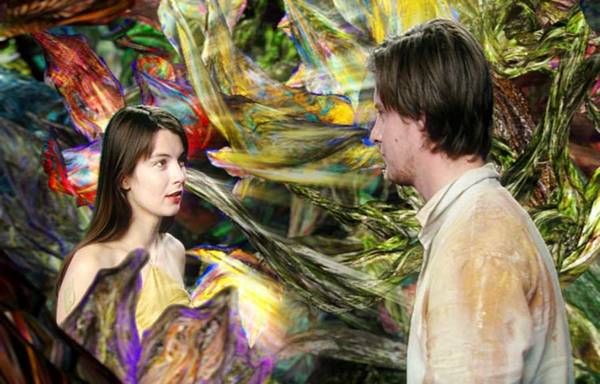 The creators have received support from an international congregation of
transcendental cosmic artists. It is a community of artists working in film,
theatre, dance, and all manner of digital art. Its goal is to allow for the
flow of this cosmic energy through their artwork. Often, these artists
experience visions and rapture, similarly as the characters in the film.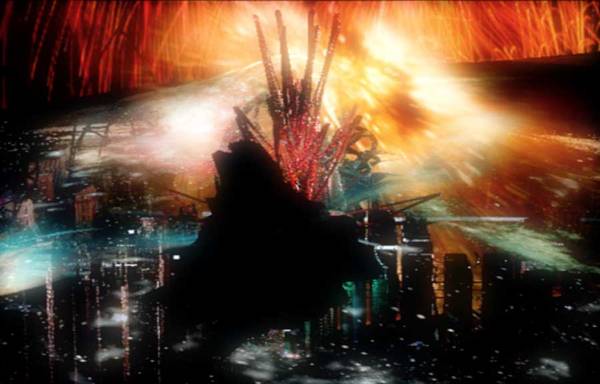 The film PANKOSMODIOS is an animated documentary of the life of the Cosmic
Artists. It shows the pure and naked truth, a veritable collision of the
mind with a speeding asteroid.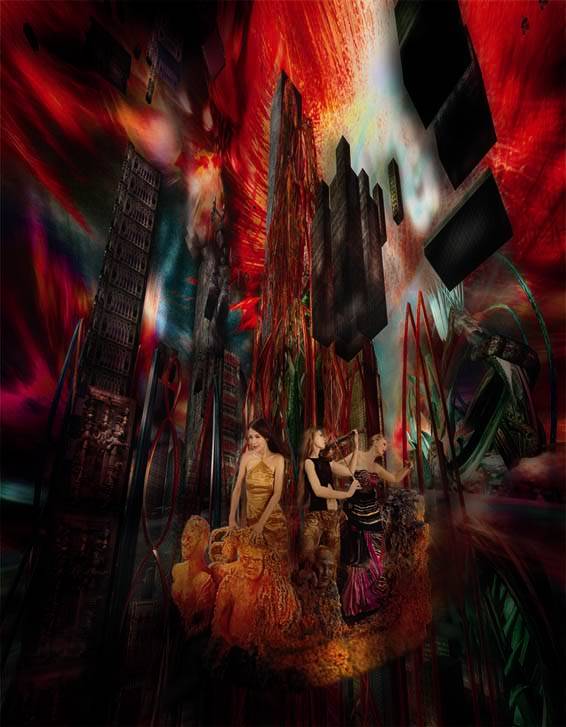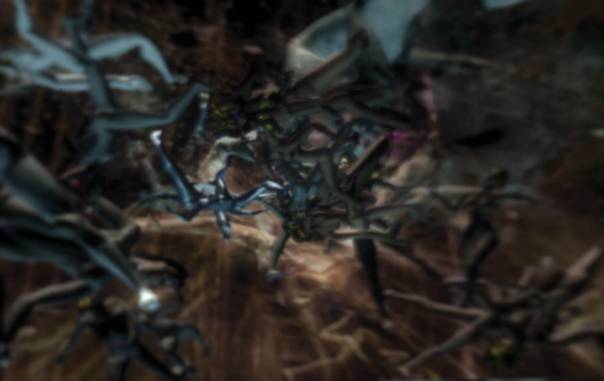 Pankosmodios is the prelude to the film trilogy KOSMIDIO.
PANKOSMODIOS
Cast
Blanka Kaczorowska – Anna
Bartosz Głogowski – Konrad
Agata Buzek
Izabela Kopeć
Magdalena Dąbrowska
Katarzyna Galica
Anna Filusz
Andżelika Piechowiak
Małgorzata Socha
Director & producer
Zbigniew M.Dowgiałło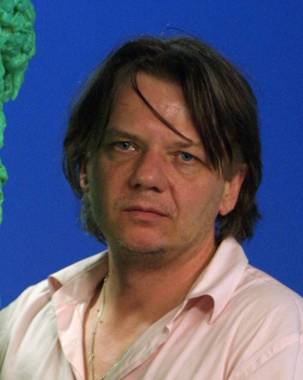 Screenplay
Krzysztof Dowgiałło i Zbigniew M. Dowgiałło
Animation & editing
Zbigniew M. Dowgiałło
Director of photohgraphy
Jacek Taszakowski
Camera
Tomek Poręba
Music
Christophe Voisé and DJ Zbig
Paintings in the film
Anna Gruszczyńska i Zbigniew Maciej Dowgiałło
Makeup and costumes
Natalia Król, Adriana Klemenska
CGI
Paweł Ferenc i Zbigniew M. Dowgiałło
Set design
Krzysztof Dowgiałło i Zbigniew M. Dowgiałło
Distribution:
DOW FILM
Adress: ul. Grojecka 41 m 25, 02 031 Warsaw, Poland.
www. pankosmodios.eu
email:zybi@dowdow.com.pl
cell phone: 48 507 141 348
phone: 48 22 659 61 70
Zbigniew Dowgiallo (Maciej)
Director, screenwriter, producer, digital 3d animator, painter.
e-mail: zybi@dowdow.com.pl
website: http://www.dowdow.com.pl
address: ul. Grojecka 41 m 25
02 031 Warszawa, Poland
phone: 48 22 659 61 70
cell phone: 48 507 141 348
________________________________________________________________________
Zbigniew Dowgiallo is a director of digital films, an expert in 2D and 3D computer animation techniques, an outstanding artist, painter, writer, and former professor of digital animation in Denver. In the 80's, he was the precursor of new expressionism and the creator of a new style: cosmic art. He took part in more than 100 art and animation shows around the world and won many prestigious awards.
FILMOGRAPHY (as a director and producer)
2006 "PANKOSMODIOS", science fiction love story, 3 D computer animation
20 minutes (12min, short version))
2006 "PANKOSMODIOS COSMIC OPERA OVERTURE".
5,30 minutes, 3 D computer animation.
2000 "KATARZYNA KOBRO » 3D digital animation, 5 minutes
2000 "APOCALYPSE Parts 9 &16," 3D digital animation, 7 minutes
1975 Neutron Bomb – short film
FILM FESTIVALS
2006 OFAFA Krakow
2005 Milano Film Festival
2005 Torun Film Festival
2003 Rome Independent Film Festival
Polish Film Festival in Gdynia
Film Festival in Kazimierz
Seattle International Film Festival
New York Independent Film Festival
Denver Film Festival
Calgary Film Festival
Toronto Online Film Festival
Olympia Film Festival
Chilean Film Festival
AWARDS:
2003 Grand Prix in Animation, Rome Independent Film Festival
2002 Grand Prix, Graphics Biennale Katowice,
2001 Award (Merit) American Screenwriters Association for "APOCALYPSE 2027"
2000 Animago Animation Festival, München, Germany - nominations in 2 categories.
1999 DPI (Digital Printing & Imaging Association) Exhibition, Reno,
USA – Grand Prix, Andre Schelenberg Award.
1998 Distinguished Award, 3-D Magazine.
1985 I Biennale, Wroclaw, Distinguished Award.
Numerous other awards in art contests in Poland.
EDUCATION:
2001-2002 Colorado Screenwriters Association, Boulder, USA
2001 2D animation, San Diego, California, USA
1989-1990 Assistantship, University of Southern California
1981-1986 Academy of Fine Arts, Warsaw, Poland, MFA in Painting.
1980-1981 National University of Fine Arts, Gdansk, Poland, Architecture.
ART EXHIBITIONS and FESTIVALS
Individual:
2006 gaga Galeria, Warsaw
2004 Kino Luna, Warsaw
2001 ASIFA show in RMCAD in Denver, USA
2000 Gallery PBK "Digital Art", Warsaw, Poland
2000 National Museum in Warsaw, show of "Apocalypse Parts 9 & 16"
2000 Museum Zielona Gora, Poland
1998 Gallery Abakus, Warsaw
1997 International Computer Fair - INFOSYSTEM '97. Poznan
1995 Gallery Abakus, Warsaw
1991 Gallery Mlodych, Warsaw
1988 Evolution Architecture -Gallery of Polish Architects Association - SARP, Warsaw
1987 Gallery Wielka, Poznan
1987 First Exhibition of the First Evolutionary Academy of Global Art - Gallery Promocyjna, Warsaw
1986 Gallery BWA Sopot
1986 Gallery of Polish Architects Association SARP, Warsaw
1985 Gallery Stodola, Warsaw
1984 Gallery Remont, Warsaw
1984 Gallery BWA Lublin
1983 Gallery Brama, Warsaw
1988 Gallery Sosnowski, Warsaw
1982 Academy of Fine Arts, Warsaw
1979 Gallery PG , Gdansk
ART EXHIBITIONS and FESTIVALS
Group
2005 "Europe in Art" Krolikarnia. National Museum, Warsaw
2004 Zacheta Galery, Warsaw
2003 MCK, Animation Show. Warsaw
2003 WSPS, Animation Show. Warsaw
2003 International Triennalle of Graphics, Krakow
2002 Vienna Art Center, Vienna
2001 RMCAD, Denver, USA
2000 Polish Landscapes, National Museum in Warsaw
2000 Gallery Meduna. Vienna Austria
2000 International Triennalle of Graphics, Krakow
2000 Animago, Animation Festival, Munich, Germany, nomination in 2 categories
2000 The 5th Sapporo International Print Biennale, Exhibition, Sapporo, Japan
1999 Norwegian International Print Triennale,
Center of Graphic Art, Fredrikstad, Norway
1999 Exhibition DPI (Digital Printing & Imaging Association), Reno, Nevada.
First Andre Schelenberg Award in Fine Arts category,
1999 International Triennial - Rio de Janeiro,
Museum de Arte Moderna do Rio de Janeiro, Brazil
1998 Prix Ars Electronica 98, Cyberarts, (in Computer Animation/Visual Effects),
Linz, Austria
1998 International Triennial Cracow-Nürnberg, fair Centre, Nuernberg, Germany
1997 Polish Graphics , Katowice
1997 Mini Triennial - continents, Art Gallery BWA, Jelenia Góra, Poland
1997 International Triennalle of Graphics, Krakow
1998 Prix Ars Electronica 98, Cyberarts, (in Computer Animation/Visual Effects),
Linz, Austria
1992 Polish Art, National Museum in Warsaw, Warsaw
1992 Architectural contest for build the center of Warsaw, SARP Warsaw
1991 Kunst, Europa 1991, Art of Europe 1991, Germany, Bonn
1991 Szyk Polski, Polish Shick , Gallery Zach´ta, Warsaw
1990 Raj Utracony, Lost Paradise Center of Polish, Contemporary Arts in Warsaw,
1990 -1992 Art from Poland, : Everson Museum of Art, Syracuse, USA
Museum of Art, New York
Polish Museum, Chicago
Anderson Gallery, Buffalo, NY
1988 Bruno Schultz, Gallery SARP, Warsaw
1987/1988 Realizm Radykalny. Abstrakcja Konkretna, Radical realizm , Concrete abstraction National Museum in Warsaw
1987 Gallery El, Elblag, Norblin, Warsaw
1987 Co slychac?, Whats News, Gallery Norblin, Warsaw
1986 Ekspresja lat 80-tych, Expression of the 80s, Gallery BWA Sopot
1986 Four from Poland, Galerie Alles 12 vor 24 volt, Rotterdam
1986 Galerie Nouvelles Images, Haga
1986 Kunstation Kleinsassen, RFN
1985 I Biennale, Wroclaw, award
1985 Gallery BWA Zielona Góra
1984 Gallery KUL, Lublin
PUBLICATIONS
Catalog of computer art Zbigniew Dowgiallo, PBK Gallery, 2000
Zbigniew Dowgiallo, story titled "Going" in catalog.: Ekspresja lat osiemdziesiatych, BWA Sopot, 1990
Zbigniew Dowgiallo, Krzysztof Dowgiallo, "The First Manifesto of the First Academy of Global Art", 27 may 1987
Zbigniew Dowgiallo, Anna Gruszczynska, "The Second Manifesto of the First Academy of Global Art" june 1988
Manifetos in catalog.: Kunst, Europa. 63 deutsche Kunstvereine zeigen Kunst aus 20 Ländern, Bonner Kunstverein, Brühler Kunstverein-Villa Minima, Orangerie Schloß Augustusburg, 1991
Zbigniew Dowgiallo, The First Global Exhibition of the Art Beauty and Cosmos 10th January 1992,
Anna Gruszczynska, Zbigniew Dowgiallo (Cosmos Academy), Cosmos Architecture on the end of the 20 centaury and beginning of the 21 centaury, "Miedzynarodowy Konkurs na koncepcje rozwoju centrum", Warszawy, "IdB" nr 1/1992, ss 3 - 6
WORKS IN CATALOGIES
2000 Catalogue, Polish Landscapes, National Museum inWarsaw
2000 Catalogue, International Triennalle of Graphics, Krakow
2000 Catalogue, Animago, Animation Festival, Munchen, Germany.,
2000 Catalogue, The 5th Sapporo International Print Biennale Exhibition, Sapporo, Japan
1999 Catalogue, Japan Digital Animation Festival, Nagoya, Japan
1999 Catalogue, Prix Ars Electronica 98, Cyberarts,
(in Computer Animation/Visual Effects), Linz, Austria
1999 Catalogue, Norwegian International Print
Triennale, Center of Graphic Art, Fredrikstad, Norway
1998 Catalogue, Prix Ars Electronica 98, Cyberarts,
(in Computer Animation/Visual Effects), Linz, Austria
1997 Catalogue, Polish Graphics , Katowice
1997 Catalogue, International Triennalle of Graphics, Krakow
1991 Catalogue, Kunst, Europa 1991, Art of Europe
1991 Catalogue, Szyk Polski, Polish Shick , Gallery Zacheta, Warsaw
1990 Catalogue, Raj Utracony, Lost Paradise Center of
Polish Contemporary Arts in Warsaw
1990-1992 Catalogue, Art from Poland, 1988 Catalogue, Bruno Schultz, Gallery SARP, Warsaw
1987/1988 Catalogue, Realizm Radykalny. Abstrakcja Konkretna, "Radical realism , Concrete abstraction" National Museum in Warsaw
1987 Catalogue, Co slychać?, "Whats New" Gallery Norblin, Warsaw
1986 Catalogue, Galerie Nouvelles Images, Haga
WORKS IN MUSEUMS:
NATIONAL MUSEUM IN WARSAW
NATIONAL MUSEUM IN KRAKOW,
MUSEUM OF MODERN ART IN LODZ,
MUSEUM ACADEMY OF FINE ARTS IN WARSAW
NATIONAL MUSEUM IN BYDGOSZCZ